Follow Your Favorites!

Sign in
to get custom notifications of new products!

Featured Product
Pathfinder Volume 1: Dark Waters Rising
by Dynamite Entertainment
The warrior Valeros can rely on his sword arm and his friends -mysterious sorceress Seoni, quick-witted elven rogue Merisiel, powerful wizard Ezren, well-traveled dwarven ranger Harsk, and courageous cleric Kyra - but nothing can prepare him for the dangers that lurk ahead.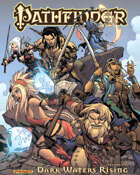 | Products found in this section... | Sort by: |
| --- | --- |
| | | |
| --- | --- | --- |
| Title | Publisher | Price |
| Collects Pathfinder 1-6! The warrior Valeros can rely on his sword arm and his friends -mysterious sorceress Seoni, quick-witted elven rogue Merisiel, powerful wizard Ezren, well-traveled dwarven ranger Harsk, and courageous cleric Kyra - but nothing can prepare him for the dangers that lurk ahead. The scattered goblin tribes of Varisia are unifying in ways no one has ever seen before. At the heart... [click here for more] | Dynamite Entertainment | $14.99 |
| When Valeros and his companions are tasked with tracking down a mysterious beast scaring the locals of Sandpoint, they find far more than they bargained for! A seemingly simple monster hunt becomes a twisted tale of danger and betrayal as the Cult of Lamashtu exacts its revenge on our iconic heroes. Paizo's award-winning tabletop RPG, fiction line, and card game is the ultimate fantasy comic! With... [click here for more] | Dynamite Entertainment | $14.99 |
| The Pathfinder heroes head to the city of Magnimar, and danger isn't far behind. As the wizard Ezren seeks an audience with the Pathfinder Society, his adventuring allies explore the city's ancient magic, well-hidden secrets, and deep political divides. The dangers and opportunities of the big city could bring the adventurers closer together - or tear them apart! Ezren ambushed, Kyra targeted, Merisiel... [click here for more] | Dynamite Entertainment | $18.99 |
| To prove themselves to the Pathfinder Society, Valeros the fighter and his companions must recount tales of their early exploits in a world beset by magic and evil. Thrill to the solo adventures of Valeros, holy warrior Kyra, Seoni the sorcerer, martial artist Sijan, Harsk the dwarven ranger, and Ezren the wizard, as they journey treacherous lands, survive wild creatures and fairy magic, unearth ancient... [click here for more] | Dynamite Entertainment | $18.99 |
| The iconic heroes of Pathfinder delve deep into an ancient fortress built by the Runelords. Carved in the immense visage of Alaznist, Runelord of Wrath, the Hollow Mountain is home to a honeycomb labyrinth of trap-laden chambers and corridors. The Pathfinder agents must explore the ruins in search of a long-lost mystical artifact... but they're not alone. Competing explorers seek out the mountain's... [click here for more] | Dynamite Entertainment | $18.99 |
| An exciting new Pathfinder adventure begins! The Pathfinder heroes receive a desperate plea to unmask a killer stalking the chaos-gripped city of Korvosa. A new queen has ascended the city's Crimson Throne, and now deadly armored Hellknights and Gray Maidens clash in the streets. With the help of a cagey adventuring detective, the heroes race down the perilous trail of a brutal murderer—only to... [click here for more] | Dynamite Entertainment | $23.99 |
| As the Pathfinder plunge into the history and mysteries below Kaer Maga-the no-holds-barred 'City of Strangers'-Valeros plunges far deeper into the great beyond, defending his immortal soul in the courts of the dead! From Pathfinder author Crystal Frasier comes this scintillating tale of life, death, and what lingers when we're gone. Bonus materials: include twenty pages of character sheets, encounters,... [click here for more] | Dynamite Entertainment | $23.99 |
| The goblins from Paizo's Pathfinder RPG are pint-sized psychopaths, wreaking havoc across the land. Infamous for their unpredictable attacks, catchy raiding songs, hatred of dogs, and fear of horses, goblins blend mischief and murderousness like no other monsters. Collecting the entire Goblins comic book series, this fantastic collection includes an exclusive, eight-page bonus short story, as well... [click here for more] | Dynamite Entertainment | $12.99 |
| The Pathfinders Valeros, Seoni, Kyra, and Merisiel are drawn into the interdimensional Worldscape, where the greatest warriors throughout the history of Barsoom, Golarion, and Earth clash in an ancient battle of life and death! Only the most dangerous among the combatants - a motley assortment which includes such legendary heroes as Red Sonja, John Carter and Tars Tarkas of Mars, the jungle adventurers... [click here for more] | Dynamite Entertainment | $18.99 |
| Four new tales as part of Paizo's groundbreaking "Worldscape" saga, drawing the greatest fantasy heroes of literature and comics into the mythos of their award-winning fantasy world and tabletop RPG! Red Sonja must escape a dungeon with a religious icon of Issus, Goddess of Death and Life Eternal, to use as a bargaining chip in the grim political war of the Worldscape! A battle against a... [click here for more] | Dynamite Entertainment | $12.99 |